ATANAS BUROV ~ BANKER, POLITICIAN AND DIPLOMAT
Author: Valentin Alexandrov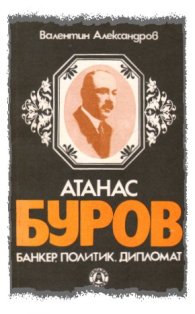 Short biographical summary
Atanas Dimitrov Burov (30 January 1875 - 15 May 1954) was a Bulgarian banker, industrialist and politician.
Burov was born in Gorna Oryahovitsa. Members of his family played an active role in the national liberation movement, the educational and cultural reforms, the setting up of the national financial system and industry. The father Dimitar Burov established the Commercial and Credit House — "Burov & Co." in 1862. After Liberation the company expanded its activities and was reorganized as a joint-stock company. The Burov company was among the founders of "Bulgaria: First Bulgarian Insurance Company" (1895) and "Bulgarian Commercial Bank" in 1891.
From 1890 to 1900 young Atanas Burov completed a prestigious and expensive education in Bulgaria and abroad.
— 1895, Atanas Burov graduated from secondary school in Gabrovo, Bulgaria.
— 1895-1900, studied law and economy in Paris.
After returning from Paris, Atanas Burov started working in the family business. He studied industries with great potential, took the initiative to establish joint-stock companies, participated in the development of railroad construction, mining, and other industries. The prosperity of his business activity provided him with stability, independent civil opinion and freedom to act as a politician. Burov joined politics as an active member of the People's Party and very soon became the ideologist of the Bulgarian bourgeoisie. He soon became one of the leaders of the party, who always had the national and people's interests as a priority.
From 1911 until 1934 he was a member of the Bulgarian Parliament and a minister in four governments:
— Minister of Commerce, 14 June 1913 - 17 July 1913;
— Minister of Commerce, Industry and Labour, 6 October 1919 - 20 April 1920;
— Minister of Foreign Affairs, 4 January 1926 - 29 June 1931;
— Minister without Portfolio, 2 September 1944 - 9 September 1944.
Burov never allowed compromises with and breach of the principles of democracy and always opposed to totalitarian and dictatorship regimes. As a Foreign Minister he contributed much to the improvement of Bulgaria's image and relations with neighbouring countries. He was an elected member of the Political Commission of the League of Nations. Together with financial minister Mollov he succeeded in negotiating the Refugee Loan, the Stability Loan and extending the moratorium on the Reparation Debts. In 1920 he was elected Secretary of the United People's Progressive Party and expanded the social base of this formation attracting personalities from other political groups.
After the communist coup d'ιtat on 9 September 1944, the People's Court sentenced Burov to one year of imprisonment. After being released, he joined the opposition in their fight against the establishment of communism, but was exiled to the town of Dryanovo in 1948, then arrested again in 1950 and sentenced this time to a 20 years term. He died in the Pazardzhik prison on 15 May 1954. In modern democratic Bulgarian history, the life of Atanas Burov is an example of decent life, dedicated entirely to Bulgaria.
***
Reflections
"I am not a pessimist. I am deeply convinced the cause of Bulgaria is not lost and would like to inhale in you the same faith, to lift up your hearts, to give you a little bit of my optimism, because optimism is a source of faith and energy, and the Bulgarian people need both in the present moment so to stand, hope and act."
"Running the risk to be considered an old-fashioned politician I keep deep faith in democracy, in national democracy and parliamentarism. And my greatest faith originates from one thing - that it is a regime that is heeled by itself, that is has all the flexibility, all the adaptability to respond to the most varied and variable needs of a people. All other regimes have something heavy in them and end with a catastrophe."
"We should be European, if we feel we need Europe. If we think we are all-powerful, we can kick way, so to say this help, we can settle this problem ourselves, then we can be whatever we want - Asian, Balkan, etc. people. It is hardly like that there are two decent people in Bulgaria to cherish illusions that we can settle any matter through our own efforts. Whichever of our problems will be settled through the consent of the European states. But to gain their consent we should consider the psychology of these people. We have to be right in front of their conscience and therefore we have to avoid diligently everything that discredits us."
"We follow the path of the organized democracy which shall be democracy in economy, policy and social life, as these three types of democracy constitute the three branches of one and the same tree with a common stem. It is this democracy that we serve to and we appeal to you, the young people to serve this kind of democracy as well."
***
Office of Strategic Services
For three years during World War II, future Director of Central Intelligence Allen Dulles commanded the Office of Strategic Services (OSS) mission in Bern, Switzerland. From Hitler's doorstep he provides an annotated selection of his reports to Washington from 1942 to 1945. Dulles was a leading source of Allied intelligence on Nazi Germany and the occupied nations. The messages presented in this archive were based on information received through agents and networks operating in France, Italy, Austria, Eastern Europe, and Germany itself. They deal with subjects ranging from enemy troop strength and military plans to political developments, support of resistance movements, secret weapons, psychological warfare, and peace feelers. The Dulles reports reveal his own vision of grand strategy and pre-sage the postwar turmoil in Europe. One of the largest collections of OSS records ever published, these telegrams and radiotelephone transmissions from the National Archives provide an exciting account of the course of the European war, offer insight on the development of American intelligence, and illuminate the origins of the Cold War. They present interest to diplomatic and military historians as well as specialists on modern Europe. The archive is almost unique as document-based intelligence history and serves as a badly needed bridge between diplomatic history and intelligence studies.
Pictures 1 & 2: Atanas Dimitrov Burov (1875-1954) left a bright trail in modern Bulgarian history. Although not widely acclaimed, in our personal opinion, Burov comprised one of the three most infamous personalities in interwar Bulgaria from first half of XX century. The other two (anti)-heroes were Bogdan Filov and Alexander Tsankov, ditto.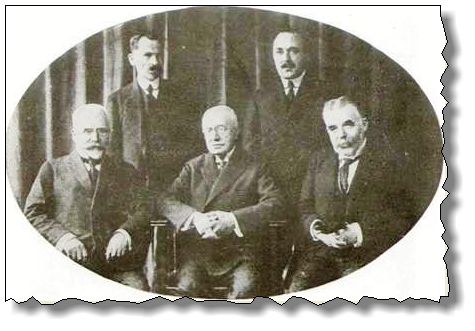 (i). This is collective photograph from People's Party Presidium taken before World War I. Central figure is Ivan E. Geshov. The others are (from left to right) — sitting, Stoyan Danev, fl. Ivan Geshov, and Theodor Teodorov; — standing, Unknown, and Atanas Burov. The vehement career of Burov is already on the road. He studied with Geshov's sons, Evstati and Evlogi, and was their personal family friend. Ivan Geshov was a fatherly figure to young Burov and thought him much of his wisdom as finansist and politician.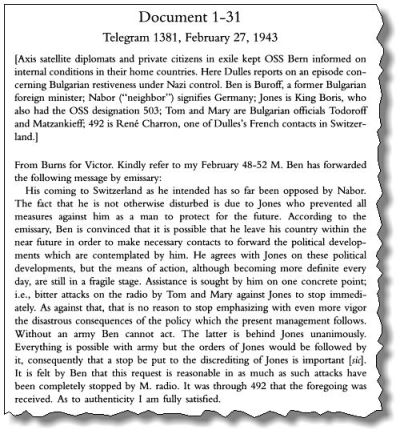 (ii). This is excerpt from Allen Dulles' Archive. Read carefully the stenogram from OSS. Atanas Buroff, a former Bulgarian foreign minister, is secret agent "Ben". King Boris, a ruling monarch, is designated "Jones". Germany, an enemy country, is called "Nabor". "Tom" and "Mary" are Bulgarian officials. "Rene Charron" is contact person in Switzerland. On the text, — It is evident here that in early 1943, before Boris' III untimely death, politician Buroff was insisting for withdrawal from War on the side of the Allies. King Boris is hesitant on the statutes of the Army, while Buroff without an Army cannot act. The consequences of this policy were disastrous by the end of World War II. Whole story in a nutshell, — A. Buroff was an early bird that predicted the failure of the War and Bulgaria's becoming a Soviet satellite.
Copyright © 2011 by the author.