NIKOLAY IVANOVICH PIROGOV ~ LIFE AND WORK
Author: Zdravko Mitzov
Editor's Note: Our booklist contains two titles on famous russian surgeon N. I. Pirogov. These are relatively small part from the large literary heritage on this titular and represent a condensation from his life, works and public activities in Russia from 19th. century. The particular importance for the bulgarian medical science, which appears to be a daughter-science to the russian medical school and "zemskaya" medicine - viz., on this issue exist many written materials and studies mainly in bulgarian language, but some also in translation. Here we come with these two books on Prof. N. I. Pirogov, subsequently to commemorate his role in the Liberation War /1877-78/ and to present some little known facts about his stay in Bulgaria from the above mentioned period.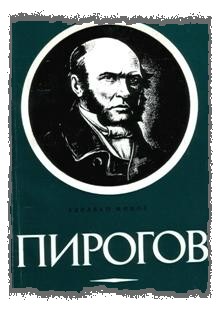 It is almost 200 years anniversary to be commemorated on Nikolai Ivanovich Pirogov - viz., Russian anatomist and surgeon, born 25 November 1810 in Moscow and died 5 December 1881 in Vishnya, Ukraine. He was member of a large family from 14 children and belonging to a generation of military major-intendants on service to His Majesty the Russian Emperor. At the time of his childhood and memory of Napoleon's War was still fresh in the country, so far it was the favorite theme on entertainment in the dormitory pansion where he grew and received his primary education. On age 14 the able youth was accepted medical student at Moscow University and graduated with excellence in year 1827. He continued his further education in the "professors" university at Derpt.
N. I. Pirogov spent almost 13 years in that university town - i.e., Derpt or Tartu was an old town, established by german traders on the Chudskoe Lake, near the Finnish Bay, subsequently it has changed titles from several hands and from 1704 it was conquered from the Swedes to the Russians under crownship of King Peter Ist, the Great. Today the city is on the territory of Republic Estonia, where estonians are its most ancient and legitimate landowners. Whatever has history and historians debated on the issue, we are not in capacity to comment at this time. It is interesting in itself and that's why we opened these few lines of resurgent review, while we continue with short biography of Prof. N. I. Pirogov and his next land-station of work.
From year 1841, we see the talented surgeon - viz., after several specializations in Germany, France, etc - ultimately, appointed a Chair of Surgery at Petersburg University. King Nicolas Ist of the russians has appreciated the achievements of his "leib-medic" and was specially tolerant towards him. It was in this capital town, that N. I. Pirogov has done the most of his prolific medical activity. Most of his popularity is due to his contributions to military medical surgery - viz., after participatory work in different military conflicts /i.e., Caucasia (1847), Crimea (1854-1856), Elsass - Lotharingia (1870-1871) and Bulgaria (1877-1878)/. The particulars of these missions are out of scope from our narrative, except for the last one in Bulgaria. It has extreme importance for bulgarian history of medicine, since Pirogov's memoir represents a first account for the newly established state in the Balkans and concerning medical matters. The original book was never translated in bulgarian, although several generations bulgarian historians of medicine has largely put it in reference. We have obtained a copy of the book in russian and intend to make some commentaries at a proper later time. For the moment and we finish this exposition, ditto.
Figure 1: Cf., "N. Pirogov. Military-medical service and health care of rearward army contingent at the war in Bulgaria 1877-1878. St. Petersburg, 1879". The bulk of publication consist some 640 pp., and is reproduced from the latest, expanded, re-edited with notes edition from volume 8, "Collected Works of N. I. Pirogov" from 1957-1960.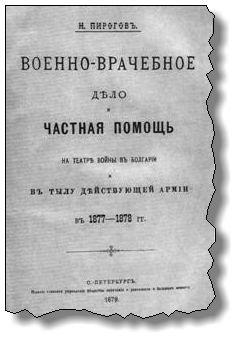 (i). This is title page from Pirogov's memoir on the war in Bulgaria /1877-1878/.
Supplement: Here are some links online about Nikolai Ivanovich Pirogov, however they are absolutely inadequate as knowledge on the titular and having in mind his enormous role for establishing and organizing modern field surgery in Europe and Russia from XIXth. century,
http://www.whonamedit.com/doctor.cfm/2627.html
http://www.answers.com/topic/pirogov-nikolai-ivanovich
Copyright © 2006 by the author.