CHRONIC ALCOHOLISM
Author: Pencho Nikoevski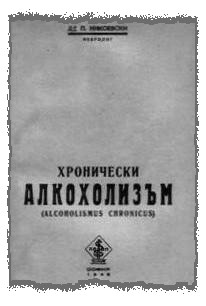 It is documented, that, bulgarian Khan Kroum /802-814/ issued a verdict with which all vineyards in the country should be eradicated, so that wide spread vine drinking be liquidated. This proved a short term measure and later Bogomilism /i.e., an early form of reformation and renaissance movement/ led a protest vote and abolished the above measures. So, drinking was wide spread on this lands from times immemorial and it persisted in the Middle Ages and in the Liberation Period from bulgarian history.
Swedish physician Magnus Huss introduced in medicine a term for "Alcoholismus chronicus". In 1906, Prof. August Forel referred to the disease as "Blastotoxia" or cell degeneration. This are some of the landmarks in the development of the disease and more details are given in the book with many references. The study finishes by the mid-century and a more modern approach and methods for alcohol measurement with alcohol surveys are subject of another review.
On the other hand, author is Dr. P. Nikoevski - viz., a certified neurologist and a middle level authority in the organization of psycho-neurological care in this country. He graduated medicine in Sofia, worked for long years as family physician in the village of Chernokonevo, Chirpan district; later he moved to Sofia and after 1944 he was chief physician at the psycho-neurological dispensary at "4th Kilometer" - Sofia. Until his retirement in 1979, he was an activist in various fields of health education and most notably for promotion of healthy life style without drinking.
This book is Dr. P. Nikoevski's capital work, but is somewhat forgotten by bibliographers in the medical libraries. Besides a wealth of literature review, it has also some original data from alcohol tolerance tests /i.e., exercised in Chernokonevo, 1929-1934/ and also some case-studies with "Alcoholismus chronicus" are described in the book. More details for an interested reader should be checked with the book. I finish this review with some sketches on patients, taken by the author.
Figure 1: These are some pictures from the case-studies presented in the book.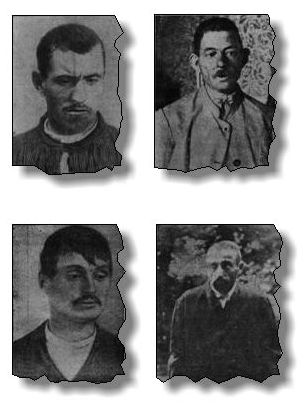 (i). Clockwise from upper-left corner: - viz., Agressiveness; Loghorhea; Tabula Rasa; Dysthimia.
Copyright © 2005 by the author.