PHYSICAL CULTURE AND SPORT IN BULGARIA
Author: Angel Solakov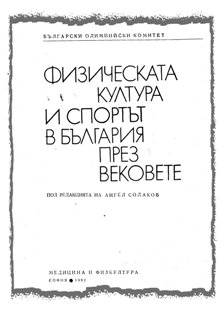 State Higher School of Physical Education 1942 - 1950
Idea: — From the 1920s of last century, individuals and institutions suggest the need for Bulgarian Academy of Physical Education. This tends to be justified by the poor teaching of gymnastics to workers and day laborers; also, without sufficient education children became damaged by exaggerated bodily exercises.
The most active propagator is the Union of Bulgarian Gymnastic Companies (SBGD "Yunak"). In partnership with the Ministry of Public Education (MNP), they even co-massate land for future school. The plan of Sofia gives greater room for construction of building (1938), but public protest, known as "Resolution Repealing Musman's Regulation Plan", delayed the execution.
Indeed, the history of Physical Education bears on itself three realities of the Bulgarian Law:
1. Courses for teachers and chieftains conducted by SBGD "Yunak" in 1900 — for the training of specialists in gymnastics required to teach it in Bulgarian schools and to advocate the idea of union for all-round development;
2. Public courses for teachers of physical education as precursors of VUTV (i.e., High School for Body Education) — five, from 1928, 1931, 1935, 1937 and 1944 are commissioned. Thoughtful reasoning concludes that teachers have to be subjected to higher education, a convincing argument for their lack of theoretical and practical training and the need to replace the orthodox German and Swedish school systems with modern education methods;
3. The third parallel is set down by Bulgarians who have completed university or academy abroad — Borislav Yordanov, Krum Katsarov, George Karaivanov, Mladen Filipov, Ivan Panaytov, Angel Panayotov (Germany), Anna Petrova, Ekaterina Nojarova, Hope Oshanova, Kiril Petrov, Parashkev Georgiev, Stefan Dobrev, Zhelyazko Filipov , Neno Mirchev, Kosta Ignatov, Ventsislav Angelov (Hungary), Dimitar Grigorov (USA), Petko Shterev, Anna Beleva (Poland), Nicola Kalkandjiev, Sergei Zhivkov, Dimitar Mihaylov (Italy). Their names directly or indirectly reflect a memorable event, the foundation of the State Higher School of Physical Education.
Comment: Rally of chieftains and principals from Union of Bulgarian Gymnastic Companies (SBGD "Yunak") in the 1930s. From 1941, SBGD "Yunak" together with allied semi-sport organizations — i.e., Union of Hunting Parties (SLD "Sokol") — formed the pro-fascist and monarchist club "Brannik". Both organizations were disbanded after 9 September 1944.
***
Beginning: — On 15 November 1942 in the Aula Magna of Sofia University "St. Kliment Ohridski", in the presence of foreign state guests and business men is blessed the state Higher School for Physical Education. The event is crucial and with radical consequences. Radical, because of the prospect for bettering higher Physical Education, and being the 7th university faculty in Bulgaria delivers a sign of the attitude of the state towards the most precious good — the Health. Its place in the institutions of our national culture and education becomes cyclical no more, but destined by time and spiritual consumers to pave the road for students and continuous classes from the 1940s.
Legislative initiatives of 1942 in the then National Assembly has submitted a draft from the Law on National Higher School of Physical Education. Disputes are on three issues: 1) the city in which to establish a school — Sofia, Ruse, Plovdiv or Ohrid; 2) for the duration of training — four years as in Germany and Hungary, two years as in Italy, or three years as impose requirements of Bulgaria; and 3) on the professional status of the five planned professors — only higher educational or vocational.
The argument that future teachers must have a second specialty, which may be obtained only in the historical-philological and physico-mathematical faculty of the University "St. Kliment Ohridski", or the Art Academy of Music (and vice versa, their students in VUTV) determines its location — in the capital. For the same reasons and to impose other solutions — the professor to be an educator and a trainer — the course is accepted on terms of four years.
Constitution begins with the Law promulgated in № 2 of the "State Gazette" (3 January 1942). After accurate control, a committee was appointed for evaluation (curriculum vitas, recommendations and research papers) and extensive reports on them, but preferred candidates were people with no political activities. The committee, with recommendation by the MNP, appointed on 20 June 1942 by decree of the King the following teaching staff: 1) Professors, — George Karaivanov and Dr. Rusi Radkov; 2) Associate Professors, — Borislav Yordanov and George Gizdov; and 3) Lecturers, — Kiril Petrov. They draw and the first Academic Council. With a later date (17 October the same year), they were joined by Assistants, — Catherine Nojarova-Dyakovich, Anna Beleva, Neno Mirchev, Dr. Totyu Totev and Guest Lecturers — Prof. Dr. D. Kadanov, Dr. I. Drexel, Prof. Dr. L. Tsvetkov, Dr. Boyan Hadjistoyanov, Georgi Petkov, Jana Nikolova, Hope Bakalova, and Angel Drumev. These were the people trying to achieve balanced practice and theory configuration.
Departments were consolidated, four in number:
1. Health sciences — anatomy, biology, anthropology, physiology and physiology of body exercise, hygiene and personal hygiene classes, first aid, rectifying gymnastics and massages;
2. Physical Education — history of physical education, theory of bodily exercises, methods of body exercises (with practice);
3. Continuing Education — balgaroznanie (with respect to state civil education, Bulgarian language and literature, Bulgarian history and geography, Bulgarian culture and customs - with oral and written exercises), general psychology and psychology of the bogy for the individual ages, total pedagogy and education through physical exercises;
4. Organization of Physical Education — body art education and organization in the world, legislation concerning the organization of physical education, knowledge on organization of boy scout camps, summer resorts, children's playgrounds, picnics, fairs, competitions and more, construction and equipment places of personnel exercise, etc.
Practical subjects were divided in five groups:
1. General body preparation, special and floor exercises, games of equipment, lifting weights, music, people dancing and sketching;
2. Athletics and games;
3. Water sports, winter sports, mountaineering, field and dexterity games, model building, gliding;
4. Boxing, wrestling, fencing, jiu-jitsu, shooting;
5. Foreign Language (optional) - German, French, English or Italian.
Director of the High School was appointed Professor George Karaivanov and a secretary - Vasil Danailov. Since autumn 1943, their functions assume Dr. Rusi Radkov and Stefan Petrov.
The first class (1942-1946) proceeded with up to 77 girls and 15 lad students. All were selected by anthropometric data, skills demonstrated in the norms of seven subjects, and with confirmed general knowledge, spelling, suaveness and expressiveness (written exam and a survey), with good ethnic qualities. On 15 October 1942, with a modest ceremony in celebration and a memorial at St. Alexander Nevski Cathedral, the school year was open.
War and poverty were conditions specific to the founding phase (1942-1944). The High School didn't have specific premises, although high quarters were located at two adjoining land-masses near the capital's military platzdarms. Courses were held at the stadium "Yunak", at the Salon of Reserve Officers in downtown, at the metropolitan bathroom and near the ski slopes "Aleko" and "Kumata " at Vitosha mountain. The water base "Seagull" in Varna was used. The stage of the National Theatre was improvised and classrooms of the Medical Faculty at Moskovska Str. was used for health science exercises.
Air raids on Sofia in 1944 forced the school to evacuate at the village of Chelopech. With training courses, lectures, seminars, football games and picnics, prayers, gymnastic productions at the adjoining villages Zlatitsa and Pirdop, the High School survives the years of World War II.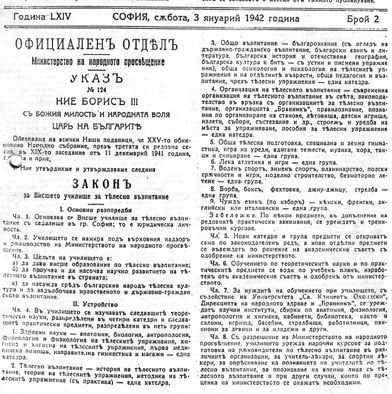 Comment: Official inauguration of VUTV — i.e., High School for Body Education. Law article № 154 of the Ministry of Public Education, promulgated in issue LXIV, fasc. 2, of the "State Gazette" (3 January 1942).
***
Changes: — The events since September 1944 awaken new developments in Bulgaria - in its institutional system, social functions, and the field of international communication. This was expressed in a transformation and accelerated accession to the Eastern model. The State Higher School of Physical Education also accessed to the new ideological dogma.
By decree of regents Director Prof. Dr. Rusi Radkov has been removed. Charges of treason and catch up with the titular professors — Alexander Dyakovich, George Gizdov, Borislav Yordanov, and Dimitar Grigorov — was purged.
This ideological agitation accumulated new mechanism for "making" of events. With the inauguration (September 1945) of Dr. Dragomir Mateev, proven in scholarship and thorough knowledge, the latter was elected as Director of the High School. He transformed the school into a cultural center. His name was associated with those environments that were soon understood for the purposes of research in Physical Education. With his support was formed new intellectual community — George Razsolkov (French), Eugene Teodorov (German), Zivko Filipov (athletics, wrestling, jiu-jitsu), Dimitar Pechenyakov (volleyball), Veselin Temkov (basketball), Yordan Nikolov (folk), Yuri Braetski (accompanist), Theodore Konstantinov (singing).
From past times courses remain: — Dr. Dobromir Dobrev (general physiology), Dr. Dimitar Oshanin (general education and psychology), Vasil Tzonkov (history of physical education), Dr. Elena Kapcheva (Italian), Georgi Avramov (boxing and organization of physical education), Dr. Ivan Ekimov (curative physical culture), Ventsislav Angelov, Kosta Ignatov and Vasil Lyutskanov (case subjects).
With arguments for change the school status and symbols are reorganized. Initial efforts are on the Central Council for Physical Culture and Sports (TSSFS). Those are supported from the Law on Higher Education adopted in 1947. The amendments are within the implied doctrine. The term "body education" was replaced with "physical culture", which defined the new name — Higher School of Physical Culture (VUF). This was effective with the order of the Committee for Science, Art and Culture - № 440 from 3 February 1950.
Courses and subjects were formed in 12 departments:
1. Biology and scientific philosophy;
2. Anatomy;
3. General physiology and physiology of the body work;
4. Hygiene and personal hygiene classes, medical supervision, teaching for physical development and human anthropometry;
5. Remedial gymnastics, massage, sports traumatology, first aid;
6. Psychology and pedagogy;
7. Theory and methodology of physical education and sports complexes;
8. Cultural history, Bulgarian history, history of physical culture, modern organization of the sports movement and legislation in different countries;
9. Theory and practice of systematic gymnastics (total body training, ground and covered gymnastics, rhythmic gymnastics, gymnastics and production, small preparatory games, and Bulgarian folk dances;
10. Theory, methodology and practice of light and heavy athletics;
11. Theory, technique and tactics of the sports games;
12. Theory, technique and practice of camp skills, games, organizing camps, summer resorts, fairs and parades, hiking, mountaineering, winter sports, water sports, mechanical sports, equestrian sports, military training, shooting, fencing, aviation and gliding, sport constructions, etc.
From 17 July 1947, the Director of the High School gets a calling entity Rector and the Rector's Office was located at "G. S. Rakovski" Str., 157. With the government decision and personal protection of Georgi Dimitrov, the High School is inaugurated in the building at "Gurguliat" Str., 36, (1948). Simultaneously are used the gymnastic salon at the restored stadium" Yunak", recovered from the bombing, and the new facilities started in building for the National Stadium "Vasil Levski" (located on former grounds of re-creation park "Arianna").

Comment: This is the first Class 1942-1946 from the High School of Physical Culture (VUF). It proceeded with up to 77 girls and 15 lad students, which got their diplomas from new appointed Rector — i.e., Prof. Dr. Dragomir Mateev.
Conclusion: How did Pavlovian physiology took grounds in Bulgaria? This is difficult question since a logical reasoning show that in the aftermath of World War II few people in Bulgaria had heard of Pavlov and his dogs experimentations. Our private research lead to a succinct factology base, arguably that it was firstly doyen physiologist Prof. Dragomir Mateev that introduced the subject to lay medical community in Bulgaria. This man brought much confusion into scientific circles of the newly socialized state. He always appeared as messiah figure and even from early pre-war years when he served as clinical consultant to the Police Prefecture, where he contacted criminal cases and vagrants picked up on the streets. Following three year specialization in the Soviet Union, D. Mateev returned back in Bulgaria as propagator of Pavlovian ideas. He served as Rector of the High School of Physical Culture (1942-1946). His approach made a drastic difference, while he acted (literally) in a Lacanian style to perform Pavlov's teaching. In the 1950s D. Mateev was appointed Head at Department of Physiology and later became Academician at the Institute of Physiology, Bulgarian Academy of Sciences. He presented in four separate seminars topics in neurophysiology to his students in Medical Faculty, Sofia, and at Bulgarian Academy of Sciences: on unconsciousness and repetition, on the gaze as object, on splinter of human drives, and on subject alienation. All terminology was adapted from Russian to Bulgarian, but still today old medical cadres found it a confusion to get suitable references on Pavlov's physiology when back-translating to foreign languages (English).
Copyright © 2010 by the author.