MY FATHER VASSIL ZLATARSKI
Author: Kresa Todorova-Zlatarska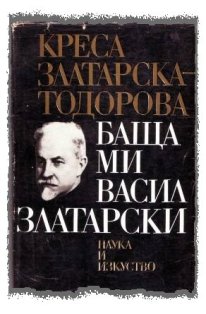 This review is dedicated to the great bulgarian historian Prof. Vassil Zlatarski /1866-1935/. Since it was easier to find written material from the titular author than bio-bibliographical data about him (sic), we contributed this little book of memoirs from his daughter — Kresa Zlatarska — and, with particular interest read some unknown facts both on a historical and fictional basis.
The bulgarians have often demonstrated failures in their retrograde memory and the case of V. Zlatarski is one such gap with idiosyncrasy of its own. As a historical narrative, the original 4 vols. "magnum opus" on Bulgarian history from Zlatarski has been issued and re-issued multiple times. It has become standard reference book for university education and as such has been heavily revised by several editorial staffs.
On the other hand it is not evident, whether, the scholar V. Zlatarski stood unblemished after all his writings or some of them were compilations by other people authorized by the professor in the course of his academic work. As a matter of fact many pros and cons could be debated about the man, scholar and public activist Zlatarski, per se.
He remains a controversy and let some other more detailed presentation give additional light on this issue. Meanwhile, we recommend this rare biographical account from the first half of 20th century and written precisely with flavor and gust about the family:
i. Georgi Zlatarski, elder brother, professor in geology;
ii. Stefan Zlatarski, elder brother, military colonel died in the First World War;
iii. Wife of Vassil Zlatarski (viz., Slavka Markova, mother of Kresa, originating from Russe of eminent financier's family, builders of a bank and family house in old Sofia), ditto.
Copyright © 2008 by the author.