GEORGI STOYKOV RAKOVSKI ~ A BIOGRAPHY
Author: Veselin Traikov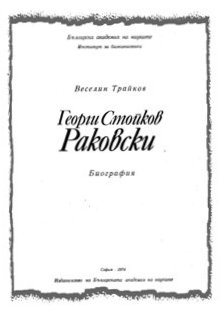 Short Biography
Georgi Stoykov Rakovski (1821-1867), born Sabi Stoykov Popovich, was a 19th-century Bulgarian revolutionary and writer and an important figure of the Bulgarian National Revival and resistance against Ottoman rule.
Born in Kotel to a wealthy and patriotic family, he attended monastery schools in his hometown and in Karlovo, and in 1837, went to study in the Greek Orthodox College in Istanbul. In 1841, he was sentenced to death whilst involved in revolutionary plans against the Turks, but thanks to a Greek friend, managed to escape in France. A year-and-a-half later, he returned to Kotel, only to be arrested again in 1845. Sent to Istanbul for seven years of solitary confinement, he was released in May 1848.
He decided to remain in Istanbul, where he worked as a lawyer and tradesman, and took part in campaigns for a Bulgarian national church. Rakovski was soon arrested once more, this time due to his creation of a secret society of Bulgarians to assist the Russians in the Crimean War. While being deported he managed to escape and gathered together a group of rebels. In June 1854, he transferred to Bulgaria.
Between 1854 and 1860, Rakovski spent his time writing, publishing reviews, and avoiding arrest.
His best-known work, "Gorski Patnik" (translated as "Traveler in the Woods" or "Forest Traveler"), he penned during the Crimean War (1853-56) while hiding from Turkish authorities near Kotel. Considered one of the first Bulgarian literary poems, it was not actually published until 1857. The published version differed from the first version, in that it had a clearer plot and improved style.
The plot concerns a Bulgarian man who recruits a rebel group to mutiny against the Turks. Rakosvki's aim in writing this was to awaken the people's spirit to fight for freedom and to take revenge on the Turks for their cruelty. The novel opens with the main character admiring the beauty of nature on the Bosporus. A preoccupation with national problems and lack of freedom clouds his mind, and he encourages others to join him in a revolt. As the insurgents travel toward Bulgaria, the reader takes in their courage and trials of the journey. The work is said to "unite all the ideology, hopes and beliefs" of the Bulgarian people in their brave fight against the yoke.
Rakovski left "Gorski Patnik" incomplete. Written in archaic language, it was difficult to read, but still had a great influence in society.
From 1861 we saw him in Belgrade organizing a Bulgarian legion, and travelling through Europe recruiting support for his country's cause. While his radical views often met opposition from more moderate minds, his writings incited youth to go against the Turks. It was in this year that he wrote his "Plan for the Liberation of Bulgaria". Many young people rallied under his flag to fight the Ottomans alongside the Serbs. However the conflict between Serbia and the Ottoman empire was soon resolved and the Legion dissolved.
Rakovski moved to Bucharest where he continued his journalistic and revolutionary activities. Led by the belief that Ottoman power could be brought down only with armed action, he began organizing small groups of revolutionary fighters, called "cheti". Their aim was to instigate unrest in Bulgaria, thus motivating the population to fight the Ottomans. For the purpose of coordinating the armed resistance Rakovski and his followers founded the Bulgarian Revolutionary Central Committee — an organization which was yet to feature in the Bulgarian Liberation movement.
In 1867 the Committee equipped two bands (cheti) who penetrated Bulgaria led by Panaiot Hitov and Filip Totiu. They fought battles with the Ottoman forces, but did not manage to fulfill their goals. Led by Hadji Dimitar and Stefan Karadja, another 120 chetnitsi entered Bulgaria in 1868 and fought their way to Stara Planina before being surrounded by the Ottomans. Some of the fighters, including Stefan Karadja, were wounded, captured and later executed. The remaining men under the leadership of Hadji Dimitar were crushed at Buzludja Peak in Stara Planina.
One of the creators of the Bulgarian revolutionary movement, poet, writer, journalist, Georgi Rakovski died of tuberculosis in Bucharest on 9 October 1867.
***
Georgi Stoikov Rakovski — great son of Bulgaria and friend of India
A biographical sketch of Georgi Stoikov Rakovski who is widely known in Bulgaria as the founder of the organized Bulgarian National Liberation Movement. His activity is closely connected with the whole new stage in the history of the Bulgarian National Revival. This passionate and ardent revolutionary was a versatile personality; a poet, historian, ethnographer, numismatist, diplomat, student of folklore, and linguist. In addition to this, his efforts to establish unity and understanding among the Balkan nations made him one of the most outstanding politicians of the Balkans in the middle of the 19th century. Rakovski was the first in Europe to create a consciousness about Hindustan. Ever since 1857, the fountainhead of Indian studies in Eastern Europe, he did significant work in Sanskrit literature, philosophy and folklore, ethnography and numismatics. A glowing tribute to Rakovski, the work explores what he left behind. A detailed study of his single-handed contribution in the field of Indology that can be a matter of pride for any cultural centre.
This book is a biographical sketch of Georgi Stoikov Rakovski who firmly believed that the source of all the civilizations of the world is India. Though brought up in the tradition of Hellenic culture, he was drawn to the culture and literature of India. He translated a part of the Ramayana. It was as early as 1857 that he published in his newspaper a series of reports about the struggle of the Indian people, about their resistance to the oppressor. As far back as 130 years ago he wrote in his paper that India must belong to the people of India and not to England, sooner or later, this must be so. This book pays a glowing tribute to Rakovski and explores in detail his single handed contribution in the field of Indology and Balkan studies. It can be a matter of pride and research for any centre of Indology and Balkan studies.
G. Mukerjee writes about Rakovski's role in bringing home to his countrymen the great civilization of India and its struggle for freedom from the British. The book makes it clear that Bulgaria owes a great deal to his patriot. A book like this jointly authored by Veselin Traikov and G. Mukerjee, the noted Indian Scholar on Eastern Europe, is particularly welcome because it portrays objectively the life of Georgi Stoikov Rakovski, an extraordinary revolutionary who defied all resistance from the welders of political power. It also describes important aspects of his ideas and ideals with which India came to be related quite deeply. Rakovski's researches were remarkable and one hopes there will be no dearth of scholars in this country to start again from where Rakovski left.
Picture 1: Sample illustration on the text above.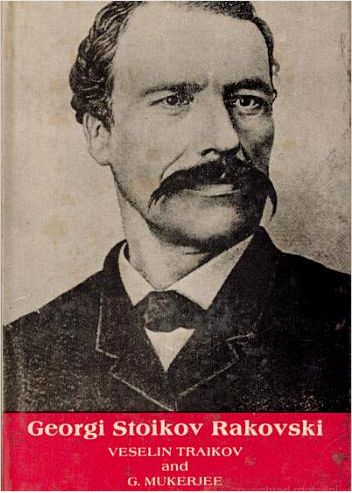 (i). The book from Veselin Traikov and G. Mukherjee was published by Northern Book Centre, New Delhi, 1987, 166 pp. In this unique monograph the worldview of Georgi Rakovski on Hindology and Sanskrit literature is examined comprehensively. Rakovski presented firstly his novel Indo-European theory in the 1850s based on wealth of foreign literary sources, ditto.
***
---
Addendum: There are two pools of literary sources on the Life and Works of Georgi S. Rakovski (1821-1867). The first cluster of written materials appeared in the 1920s and 1930s under editorship of Prof. Mihail Arnaudov. These were several monographs, one large and several small ones, that treated various aspects from the heritage of the titular. Essentially, the work from M. Arnaudov was continuation of research beforehand done by distinguished scholars of the Bulgarian Literary Society (Bulgarian Academy of Sciences) — Prof. Ivan Shishmanov, Prof. S. S. Bobchev, etc.
The second cluster of research appeared shortly after the World War in the 1950s. This was a 4-volume "Archive of Georgi Ragovski", under general editorship from Prof. Alexander Burmov. The accent here was more on the revolutionary work of the titular rather than anything else — letters, proclamations, programs, etc. Commensurably with this started a collective work on re-publishing the original works of Rakovski. This job extended until the early 1980s when another 4-volume edition appeared of Rakovski's "Collected Works". Much of the editorship was done by Prof. Veselin Traikov. He also published an additional volume of Rakovski's biography with a large bibliographic index.
The small book from Sofia Press is condensation of Veselin Traikov's bigger volume translated in English language. Access is from here,
http://www.archive.org/details/GeorgiRakovskiAShortBiography
Copyright © 2011 by the author.