WHITE BOOK ON THE BULGARIAN CONSPIRACY
Author: Boyan Traykov
Sergei Antonov (b. 1948 - died July or August 2007) was a Bulgarian airline representative who was accused of involvement in an assassination attempt against Pope John Paul II by Mehmet Ali Ağca in 1981.
Antonov, who worked as a Rome-based representative for Balkan Airlines, Bulgaria's national airline, was arrested in 1981 by Italian authorities and charged with complicity after the assassination attempt against Pope John Paul II by Turkish national Mehmet Ali Ağca on May 13, 1981. Pope John Paul II was seriously wounded, but survived the shooting.
Antonov was placed on trial in Italy with three Turks and two other Bulgarians for the attack against the Pope. Ağca named Antonov as his co-conspirator before his conviction for attempted murder.
The case against Antonov fell apart. Italian prosecutors could not prove that the Bulgarian secret service had hired Mehmet Ali Ağca to assassinate the Pope at the behest of the Soviet Union, which feared the Polish Pope's influence in then Communist Eastern Europe. Antonov was acquitted of the charges in 1986 following a four year trial. The Italian court said that there was not enough evidence to support a conviction.
Antonov returned to Bulgaria following his acquittal. He refused to speak publicly about his time in prison. His mental and physical health rapidly declined and he spent the rest of his life in isolation from others. He was found dead in his Sofia, Bulgaria apartment in the summer of 2007. Doctors believe that he may have died of natural causes as much as two days before he was found.
Pope John Paul II made his first and only official visit to Bulgaria in 2002. The Pope publicly rejected the allegations that Bulgria's Communist government had been behind his 1981 attack and never believed in the Bulgarian connection.
***
When Pope John Paul II arrives in Bulgaria this week he is expected to make the usual noises about healing the rift between the Catholic and Eastern Orthodox Churches. He will kiss a basket of Bulgarian soil and accept a copy of a miraculous icon of the Virgin Mary. But Bulgarians are hoping his visit will accomplish something more. At a low point in the cold war 20 years ago, the country was implicated in the attempt to assassinate John Paul in Rome. No Bulgarian was convicted, but the allegation cast a shadow on the country's reputation that many Bulgarians believe is still discernible today. Now, says Foreign Minister Solomon Passi, the papal trip might finally "help erase the stain on Bulgaria's name."
Image is important these days. Bulgaria is positioning itself for possible admission to NATO later this year and has ambitions to join the European Union. As the country edges westward, many Bulgarians believe it is time to set the historical record straight.
Sergei Antonov was arrested for complicity in the papal attack. A former manager in the Rome office of Balkan Air, Antonov was held for more than three years in Italy, only to be acquitted for lack of evidence. Shattered, he returned to Sofia unable to carry on a conversation or concentrate on complex tasks, symptoms his friends attribute to the use of psychotropic drugs in his interrogation. His physical health too was damaged, though he refused treatment. Today, in press coverage, Antonov's sufferings are likened to those of Bulgaria as a whole. Just last month the federal government granted the 53-year-old a special state pension. "Sergei was a victim of a conspiracy against the Bulgarian nation," says Marin Petkov, a friend and former intelligence officer who insists Antonov never worked for the secret service. On his wall are photos of Antonov alongside images of Stalin and the Madonna. "As much as the Pope suffered, Sergei suffered more."
It seemed a simple case at first. On a May morning in 1981, a Turkish-born convicted murderer named Mehmet Ali Agca raised a 9-mm pistol above a crowd in St. Peter's Square and fired three shots into the Pontiff. Agca, a Muslim who had sent letters threatening the Pope's life, was arrested on the spot and sentenced to life in prison. Months later under further questioning, Agca began to claim that Bulgarian agents had given him the weapon, that the plot originated in Moscow and involved Bulgaria's secret service. The Kremlin, prosecution witnesses said, wanted to prevent the Pope's support for the Solidarity movement in his homeland and from encouraging resistance elsewhere in the eastern bloc.
Agca's claims triggered Antonov's arrest. But at the trial Agca proved a poor witness. He testified he was Jesus Christ and predicted the imminent end of the world, before retracting his original charge. The trial collapsed and, in 1986, Antonov was released. Bulgarian officials said the CIA concocted the charges to tarnish Bulgaria and Russia. Agca remained in an Italian jail until 2000 and is now back in Turkey, serving 10 years for the 1979 murder of a newspaper editor.
In letters from prison, Agca has continued to insist the shooting was part of a KGB plot. Investigators agree the Turk could not have acted alone since he was sprung from a maximum-security prison before the attack and provided with a weapon and travel documents. But the identity of the other plotters remains a mystery. Dimo Gyaurov, head of Bulgaria's National Intelligence Service, told TIME that agency archives contain neither "direct nor indirect" evidence of Bulgarian participation in the plot. Some files were destroyed just after the communists fell. But Gyaurov says, "I don't think Bulgarians were involved."
Even if absolved of a role in the plot, Bulgaria's secret service can hardly expect to rise in the world's esteem. These are the folks, after all, who are widely believed to have used a poison-tipped umbrella to kill a dissident in London in 1978. But other countries have emerged from the ruins of communist rule successfully, and the Pope may help the current leadership along that road. Officials familiar with this week's program say John Paul will reaffirm his love for the Bulgarian people but not address the shooting. As for Sergei Antonov, he's unlikely to be listening. Mere mention of the Pope's name, friends say, causes him to retreat deeper into his silent world.
Pictures 1, 2 & 3: Here are some materials from the photo-archive of the Bulgarian Telegraph Agency /BTA/. Although time has expired from the end of the trial in 1986, there is still some inconsistency about the accusations there and specifically with regard the testimony of Mehmet Agca. The Bulgarian connection was never proven, while Agca get paroled and returned to maximum security in Turkey.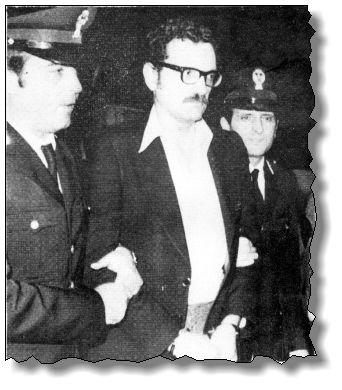 (i). Sergei Antonov at the moment of his arrest in Italy, 25. XI. 1982. The disinformation was obvious, while the only proof that he was attendant at "St. Peter's Square" during the assassination attempt was false. (Erratum: An american tourist confessed later that pictures from the surveillance camera on the square at the time of the shooting had registered his presence there and not someone else).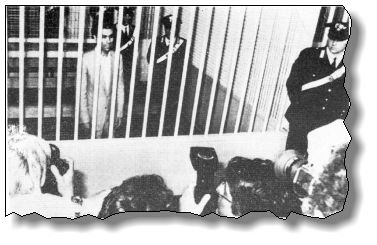 (ii). Mehmet Ali Agca — viz., born as Yoginder Singh in his native Turkey; member of the nationalist "Grey Wolves" organization — at the time of the first trial 1982-3.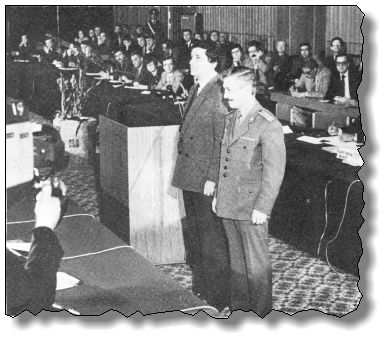 (iii). Todor Ivazov /attaché at the Bulgarian consulate in Rome, civil/ and Zhelyu Vasilev /secretary at the Bulgarian consulate in Rome, uniformed/; here, they appear at court during the second trial 1985-6. (Erratum: Mehmet Agca consistently testified that he has been meeting those people and had plotted together with them in Sofia and Rome. That seems improbable since he couldn't recognize them de vivo and at least couldn't point out that Ivazov was taller than Vasilev).
Copyright © 2008 by the author.