BOGDAN FILOV ~ LIFE BETWEEN HISTORY AND POLITICS
Author: Maria Zlatkova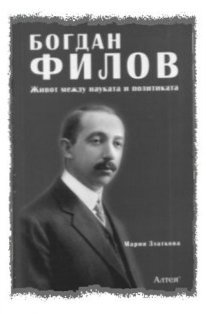 Bogdan Dimitrov Filov (born: 9 April 1883 - died: 1 February 1945) was a Bulgarian archaeologist, art historian and politician. He was Prime Minister of Bulgaria during World War II from 15 February 1940 to 14 September 1943. During his service, Bulgaria became the seventh nation to join the Axis Powers.
***
Early life and academic career
Born in Stara Zagora, Filov was educated in Imperial Germany at Leipzig, Freiburg and Würzburg. His Ph.D. dissertation from Freiburg was published as a book — a supplement to the prestigious German magazine "Klio" in Leipzig. Since 1 May 1906, he worked in the National Archaeological Museum in Sofia. Filov specialized archeology and numismatics in Bonn, Paris and Rome (1907-1909).
He was the indisputable leader of the Antique archaeology in Bulgaria. Between 1910 and 1920 Filov was Director of the National Archaeological Museum. He conducted the first studies of the ancient city Kabile, near Yambol, in 1912. In 1920 Filov became a professor of Archeology and Art History at the University of Sofia. In 1920 a Chair of Archaeology was established at Sofia University "St. Kl. Ohridski". The Archaeological Society in Sofia developed into an Archaeological Institute with Department of Antique Archaeology. In 1937 Prof. Bogdan Filov was elected chairman of the Bulgarian Academy of Sciences.
Prime Minister and Regent
On 15 February 1940, following the resignation of Georgi Kyoseivanov, Filov was appointed Prime Minister of the Kingdom of Bulgaria. Filov was an ally of Tsar Boris III. On 7 September, Bulgaria was awarded the southern part of Dobrudja by the Treaty of Craiova. On 14 February, Bulgaria signed a non-aggression pact with the Axis powers and on 1 March joined the Tripartite Pact. On Bulgaria's Independence Day at 3 March 1941, German troops crossed into Bulgaria on the way to invade the Kingdom of Yugoslavia and the Kingdom of Greece.
Though a titular member of the Axis, Bulgaria stayed out of the war as much as possible during the regime of King Boris and Premier Filov. After the death of Boris III in 1943, Filov became a member of the established Regency Council since the new Tsar, Simeon II, was underaged.
Anti-Semitic law and pro-Nazi policy
In November 1940 the government of Bogdan Filov proposed the Law for Preservation of the Nation that was voted on 24 December 1940 in the Parliament. This law was equivalent to the Nuremberg Laws of the Third Reich and deprived the Jews from civil rights. Filov established the Commissariat for Jewish Affairs as executive body about the Jews in Bulgaria. According to government decision in March 1943 the Jews from the newly annexed territories, which weren't Bulgarian citizens, were deported by Bulgarian authorities to Death camps of Nazi Germany. So, 11 343 Jews from then occupied Northern Greece and Vardar Macedonia were deported to German custody and later to the Treblinka killing centers. Almost none of them survived. However, the Nazi-allied government did not deport its 50 000 Jews, Bulgarian citizens from the primer bulgarian territories, after yielding to pressure from the Bulgarian Orthodox Church and parliament deputy speaker Dimitar Peshev.
Trial and Death
Following the armistice with the Soviet Union whose forces had entered Bulgaria in 1944, a new Communist-dominated government was established and the Regency Council members were arrested. Filov and ninety-two other public officials were sentenced to death by a "People's Tribunal" on the afternoon of 1 February 1945 and executed by firing squad that night in Sofia cemetery. They were then buried in a mass grave that had been a bomb crater. The former professor was described in an obituary as a man who had mistakenly "preferred making history rather than teaching it".
The death sentence was recently revoked by the Bulgarian Supreme Court on 26 June 1996.
***
Bogdan Dimitrov Filov was a prominent Bulgarian archaeologist, historian of art and politician. He was prime minister of Bulgaria in 57th and 58th Government in Kingdom of Bulgaria (1940-1943) and regent of minor King Simeon II (1943-1945).
Bogdan Filov was a scientist with important contributions to archeology and history of ancient and medieval Bulgarian art. As a politician Filov was largely responsible for the inclusion of Bulgaria in World War II on the side of Nazi Germany in March 1941, even though the alternative was Bulgaria to be overrun by the armies of the Third Reich, then placed on standby across the Danube.
Early Biography
Born in Stara Zagora in the family of colonel Dimitar Filov (from Kalofer, associate to Botev) and Elizabetha Sahatchieva of Karlovo, Bogdan Filov studied in Karlovo and Plovdiv and graduated first in Sofia Boys' Gymnasium (1900). He moved to Germany with a state scholarship of the Ministry of Education, where he studied classical philology in Wurzburg (1901) and Leipzig (1902-1903), and archeology and Roman history in Freiburg (1904-1906). His doctoral dissertation from Freiburg was issued as a book attachment of the prestigious German magazine "Klio" in Leipzig. From 1 May 1906, he worked at the National Archaeological Museum in Sofia. Specialized archeology, museology, numismatics in Bonn, Paris and Rome from 1907-1909.
Bogdan Filov launched methodical archaeological excavations in Bulgaria — first in Hisar in 1909-1910, then between 1910 and 1920 became the first Bulgarian as Director of the National Archaeological Museum. He conducted the first studies on ancient city Kabile near Yambol in 1912.
During the wars of 1912-1913 and 1915-1918, Bogdan Filov made three lengthy research trips to Eastern Thrace, Aegean and Vardar Macedonia and Pomoravie, saved and revealed many cultural treasures, kept detailed diaries. In Vardar Macedonia during the First World War, Germany cooperated with archaeologists and art historians who were sent to explore the respective cultural monuments. Many of the rescued then over 400 Bulgarian antiquities were kept in so-called "Secret Fund" in the National Archaeological Museum, transferred later to the National Museum of History in the 1980s.
Filov excavated and studied in Sofia the church Hagia Sophia (1910-1912), the St. George church (1915, 1921, 1932) and the Boyana Church (1920). Later he studied and published the rich Thracian mound necropolis at the village Douvanli near Plovdiv (1929-1931) and the domed tomb Mezek near Svilengrad (1931-1933).
He was founder and first director of the Bulgarian Archaeological Institute (1920-1940), member of the Board of IBA (1940-1945). Participated in all the international congresses on Byzantine culture, from Bucharest (1924) to Rome (1937). Organizer and secretary of the IV Byzantology Congress, held in Sofia from 9-16 September 1934.
He became associate member of the Academy of Sciences in 1918, and from 1929 its full member — i.e., an Academician. After the death of Prof Lyubomir
Miletich, on 27 June 1937, he was elected president of the Bulgarian Academy of Sciences, in which position he remained until October 1944.
Initiated into Freemasonry as early as 1923 in Berlin Lodge and later became a member of the Masonic Lodge "Light" in Sofia. His government issued prohibition of all lodges in Bulgaria in 1941.
Academic Activities
After applying for participation in the announced competition for regular associate professor at Sofia University, in the chair of Archeology of the Old World, as early as 30 December 1910, the following year Bogdan Filov was approved by the Faculty of History and Philology and won the contest. Habilitation work
for Dr. Filov was presented by his study "Archaeological parallels. Studies on the history of ancient art in Bulgaria", printed in the Collection of Folk Miscellanies. The Dean of Faculty did not wish to appoint him merely as a part-time fellow, after Filov refused to leave his place in the museum. It was not until May 1914, that he was appointed part-time private associate professor, and in 1920 he was elected professor of Archeology and Art History at the University of Sofia, where he taught even as Prime Minister until 1941.
Prof. Bogdan Filov was founder and first curator of the "Archaeological Seminar" at the Faculty of History (1921-1940). He held 9 thematic courses at Sofia University for the same period. At the university, Prof. Filov was elected Dean at the Faculty of History and Philology in 1924-1925, and Rector in the academic year 1931-1932.
Scientific membership
For his scientific contributions Bogdan Filov was elected,
A. as an associate member of:
— Prussian Academy of Sciences, Berlin (1938);
— Bavarian Academy of Sciences, Munich (1929);
— Slavic Institute "N. Kondakov", Prague (1929);
— Archaeological Society of Hungary, Budapest;
— Scientific Society in Gottingen (1932);
— Hungarian Society Korosi Csoma-Gesellschaft, Budapest (1928);
— Numismatic Society, Vienna;
— Standing Committee of Etruscan studies, Florence;
— Archaeological Society of Greece, Athens;
— Committee for Byzantine Studies, New York.
B. as an actual member of:
— Archaeological Institut Germany, Berlin (1924);
— Russian Imperial Archaeological Institute, Istanbul (1910);
— Austrian Archaeological Institut, Vienna;
— Union of Bulgarian scientists, Writers and Artists, Sofia (1918).
C. honorary doctorate (Doctor Honoris Causa) for universities:
— Athens (1937);
— Berlin (1939);
— Budapest (1941);
— Padua (1942).
Political Activity
In late 1938, Bogdan Filov was invited to the Ministry of Education in the government of George Kioseivanov, and by 15 February 1940 with Decree № 8 of King Boris III — as head of the Council of Ministers. Major success for the government was the signing of the Treaty of Craiova on 7 September 1940, by which Southern Dobrudja was returned from Romania to Bulgaria.
As Prime Minister Bogdan Filov deposed the "Law on Protection of the Nation", adopted on 24 December 1940 and containing discriminatory measures against Jews. A little later the government established a Commissariat for Jewish Affairs, which aimed to the "final solution of the Jewish question". At the end of his term as Prime Minister, in Germany were deported over 11 000 Jews from the occupied areas of Bulgaria in Macedonia and Western Thrace, most of whom were killed. After public protests, the planned deportation of Jews with Bulgarian citizenship was revoked.
On 1 March 1941, the Filov government signed a treaty in the Belvedere Palace in Vienna, and Bulgaria joined the Tripartite Pact. On 13 December 1941, the current Bulgarian government, under pressure from Nazi Germany, called and announced the "Symbolic War" to the United States and Britain, which ended with heavy air raids of the Allies over Sofia and other cities from 1943-1944. After the death of King Boris III on 28 August 1943, Bogdan Filov in his capacity as Prime Minister, temporarily performed the duties of a Regent to the infant king Simeon II. On 9 September the same year, he was elected by the XXV National Assembly in a Regency Board along with Prince Kiril Preslawski (brother of Boris III) and Lieutenant General Nikola Mihov (Secretary of War).
After agreeing a truce with the Soviet Army, in September 1944 the Regency Board was dissolved. A new government was set up very quickly dominated by the communists. Bogdan Fiov and Prince Kiril Preslawski, together with eight advisers of the Tsar, 22 ministers of the cabinet Fiov, the Prime Minister from 1943 to 1944 Dobri Bozhilov, the Prime Minister from 1944 Ivan Bagrianov and 66 deputies were tried by a People's Court to death because having dragged Bulgaria into the war. Execution was held during the night of 1 February 1945, and the entire property of the detainee was confiscated.
Family and Relatives
In January 1932 Bogdan Filov married in a narrow family circle for Dr. Evdokia Peteva-Filov (1901-1980), a general's daughter, graduated in Germany and actively dealing with Bulgarian ethnography. Because they didn't have children, the only living descendants of the Filov's are: — Dimitar Atanasov, whose father was grandson of the brother of Filov - Svatopluk, and a niece Eudoxia (Kina).
Bibliography
— Bogdan Filow. Die Legionen der Provinz Moesia von Augustus bis auf Diocletian (Klio-Beiheft 6). Leipzig, 1906;
— Bogdan Filow. Erosstatue aus Nicopolis ad Istrum. Berlin, 1910;
— Bogdan Filow. Early Bulgarian Art. Berne (P. Haupt), 1919;
— Bogdan Filow. L'ancien Art Bulgare. Paris (Librairie F. Alcan), 1922;
— Bogdan Filow. Les miniatures de la Chronique de Manassès à la Bibliothèque du Vatican (Cod. vat. slav. II). Sofia (Musée National Bulgare), 1927;
— Bogdan Filow. Die archaische Necropole von Trebenischte am Ohrida-See. Berlin und Leipzig, 1927;
— Bogdan Filow. Grabhügelfunde aus Duvanlij in Südbulgarien. Berlin, 1930;
— Bogdan Filow. Geschichte der altbulgarischen Kunst bis zur Eroberung des bulgarischen Reiches durch die Türken. Berlin-Leipzig (W. de Gruyter & Co), 1932;
— Bogdan Filow. The Beehive Tombs of Mezek. Oxford (Antiquity XI, 300-305), 1937;
— Bogdan Filow. Bulgariens Weg. Die Außenpolitik der bulgarischen Regierung. Bulgariens Beitrag zur Errichtung der neue Ordnung. Sofia (Hofdruckerei), 1942;
— Bogdan Filow. Ideologie und Programm der Staatsverwaltung in Bulgarien. Sofia (Hofdruckerei), 1942;
— Bogdan Filow. Die Kuppelgräber von Mezek. Madrid (Homenaje a Julio Martinez Santa Olalla, Vol. II), 1947.
***
---
Addendum I: Information and materials on Bogdan Filov were long time classified in the archives of the Bulgarian Communist Party. His contribution to Bulgaria as a scholar and a politician were only transcribed in telegraph style, and his name had become a protagonist for Hitlerism in the country. Those misconceptions went further to an extent that Filov's scientific work in history, philology and archaeology was outsourced from citation. Bogdan Filov as politician was a name for a rookie and a slave to German imperialism. These were the realities from the time of the Cold War.
In the transition period to democracy from 1989, there came a right turn in politics and many forgotten names and events reappeared on surface. Thus Bogdan Filov was posthumously rehabilitated from the People's Tribunal death sentence and even a street endowed with his name. But the legacy of that man still remains misty and his contributions to cultural life in interwar Bulgaria are seldom commented.
This book at hand is first attempt to create an image for Bogdan Filov, further than the lax endeavors of the communist historians and the fade interest of right-wing democrats. Hitherto, there appears in front of the public a figure that deserves more respect and more retribution than the mere slavish servitude of critiques and journalists. We can enumerate few points for this statement:
1. Prof. Bogdan Filov was an eminent scholar and academician from the near past. His prolific scientific heritage remain to be studied by future generations of archaeologists and classicists. As of his more than 250 publications, we have given in the reference list only those written in foreign languages — English, German and French. We can outcrop his most important work (i.e., "Bogdan Filow. Early Bulgarian Art. Berne: P. Haupt, 1919").
2. As a politician, Premier and Regent of the Bulgarian state, Bogdan Filov was a name on the Balkans that equaled Hitler and Mussolini in Western Europe. He didn't have much chances for the catastrophe of the country in World War II. Likewise, his alliance pact with Germany and his deportation of the Jews were dictated by threatening from neighbor countries and super-powers Soviet Union and Turkey. Filov's rehabilitation lately doesn't make tribute to those that skirmished him for long 50 years, ditto.
Pictures 1, 2 & 3: Sample illustrations on the text above.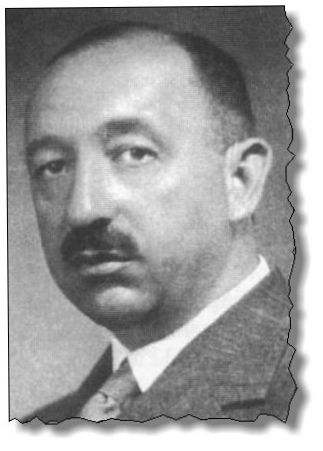 (i). Prof. Bogdan Filov (1883-1945) was a Bulgarian archaeologist, art historian and politician.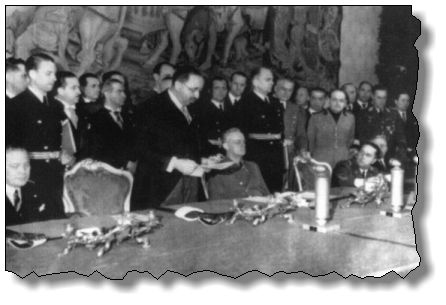 (ii). Signing the alliance pact with the Axis Powers on 1 March 1941.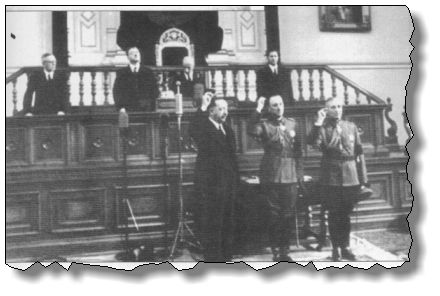 (iii). Elected in the Regency Board along with Prince Kiril Preslawski and Lieutenant General Nikola Mihov on 9 September 1943.
Addendum II: These cinematography materials were excerpted from the film-base of YouTube. Simple judgment is left to the viewer.
---
http://www.youtube.com/watch?gl=JP&hl=ja&v=CpKfbSpXz4U
http://www.youtube.com/watch?v=4VhLML9t54k&feature=related
http://www.youtube.com/watch?v=f55Tz7z3Apo&NR=1
---
Copyright © 2009 by the author.